This is an overview of what you can expect when switching to OMS. From set-up to training, here's how it works.
Welcome and thanks for choosing OMS to assist you with your payroll and HR needs. It's very important to prepare and submit your items to OMS in a timely manner so we can have your payroll account set up as soon as possible.
To get started you'll need to think through a few questions:
1. Are you wanting to have an online payroll website or traditional payroll processing?
2. If you choose our online payroll website, do you want your employees to have access to an online self-service portal that they can access from anywhere, anytime to view their personal pay history?
3. Do you want to track PTO requests through your payroll website?
4. Do you need our web-based time and attendance service?
5. Will you use your payroll website to publish your company news, vendor contacts, or review, train, or track licenses?
---
Review this list and gather the information that pertains to your organization. If you don't want to track PTO or you don't have a 401k, then you can skip those items:
EE Import Spreadsheet (see download link & explanation below)
Create a list of your Managers and Departments
Your Year-To-Date Payroll Data (prepare spreadsheet for upload)
Your Payroll Register Detail (prepare spreadsheet for upload)
Your Payroll & Deduction Codes
Your Deduction Starting Balances (prepare spreadsheet for upload)
Any Tax Levys or Child Support Orders for your employees (upload)
Your Organization's PTO Policy Details
Your PTO Balances (prepare spreadsheet for upload)
Your 401k Plan Information, Current Participants, Deductions % or Fixed Amount & Employer Match (prepare spreadsheet for upload)
EE Import Spreadsheet
First, the most vital piece of payroll information is your employee data. Click this link to download our template EE Import Master Xcel spreadsheet fill out this spreadsheet or export this info from your current payroll system. The first four lines are an example of employee data entered into each column. We require this format for upload into our system.
Once we have all of your accurate information we can set up your account. If you have selected to have an online payroll website these portals take 14-21 days to complete. Your site will be delivered to you along with your username and password. Training will begin promptly and it's important to designate two key employees to attend all initial training sessions.
Meet Your Payroll Specialist 🎉😀🎊🎈
At OMS, every new payroll customer is assigned a dedicated team of experts to help you along the way, not just in the beginning but for all time. Your Payroll Specialist (a.k.a. your new best friend) will be your go-to contact for all your payroll needs. Plus, you can contact our HR Department at any time to access HR resources, guidance, and extra help.
Timeline For Customers With Payroll Websites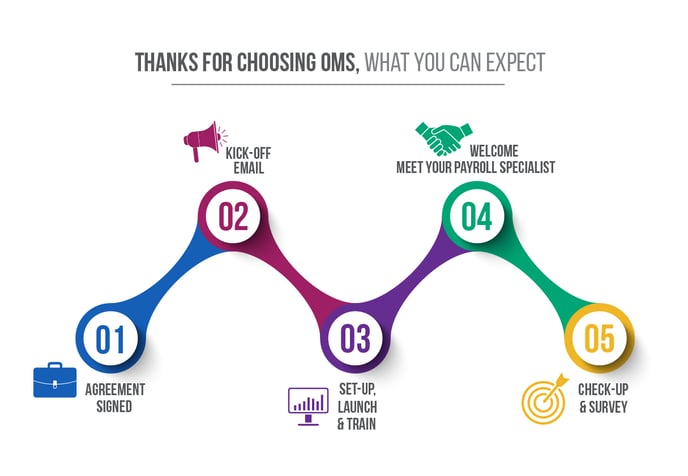 Training: Some of the items covered in your initial online training...
Essential topics like adding new hires, editing employee information, reports, the Termination Center, employee self-service, and the HR Center.
Vacation/Time Off Center, accruals, time clocks, and the Payroll Center.
Report Writer and additional set up of HR management items along with any remaining questions or topics from the client.
Further Online Training (if necessary)
After you have completed your initial training, we offer personalized, one-on-one training at an hourly rate on an ongoing basis whenever you need it. The purpose of our ongoing training is to help you gain a deep understanding of the system, including its capabilities and the proper procedures and best practices to use, as well as to help you learn as technology evolves. We are on hand to assist you with advice and training to help you get the most out of the system, whether you are a beginner or an expert.
To schedule an ongoing training session, contact any of our operations team members. Please include your availability (dates and times) for the training session, as well as any particular topics you wish to cover.
Custom Programming
The only customization that is offered at this time is adding your company logo to the existing website AND/OR allowing employee photo uploads. Please note that we are always looking to improve the site for your needs and welcome any feedback.